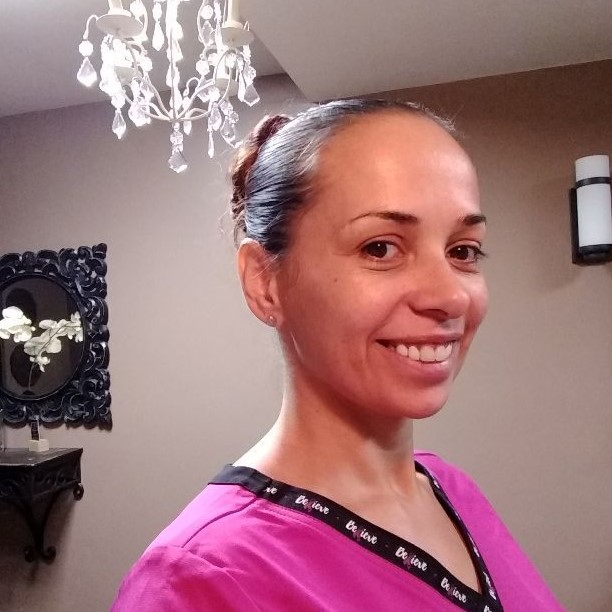 Certified
(951)693-9777
My name is Bianca Wylie and I am a CAMTC Certified Massage Therapist (CMT) and Licensed Holistic Health Practitioner (HHP). I graduated from Bellus Academy in Poway, CA. I also hold a Wellness for Cancer Level 1 Certification and I am a Certified Associated Bodywork & Massage Professionals (ABMP) Member.

I believe that healing starts within. I am living proof that massage can be more beneficial and have longer lasting (positive) effects than pain pills. During my enlistment in the United States Marine Corps, I suffered many injuries. Although I had a well paying office job afterwards, I also had an extreme amount of chronic pain and migraines caused by my injuries. Since I have a young child and a sensitivity to medications, my search for relief let me to the wonderful world of holistic medicine and massage. Not only have I found a way to start my path to healing, I have also found a way to help others that I enjoy?

I am trained and experienced in giving Swedish, Deep Tissue Muscle Sculpting, Hot Stone, Prenatal, Sports, Chair, Manual Lymphatic Drainage, Trigger Point Massage, Thalassotherapy, Body Wraps/ Body Scrubs, Thermotherapy, Cryotherapy, and Contrast Therapy, Ayurvedic and Traditional Chinese Medicine, Neuromuscular Therapy. Basic Craniosacral and Shiatsu Techniques and Reflexology.

I use a combination of techniques that include but are not limited to Muscle Energy Techniques, Deep Transverse Friction, Strengthening/Lengthening, Stretching, Myofascial release, Range of Motion Exercises, Kinesiology Taping, Postural and Gait Evaluations, Orthopedic Procedures,

I only use organic massage lotions, gels, and cremes. I also offer Sugar Body Polish, Micro-Buff Body Polish, Exfoli-Sea Salt, Glow, Firmi-SeaBody Mud, Black Baltic Sea Mud, European Rose Mud, and Body Luxe Hydrating Wrap, and a variety of essential oils for aromatherapy that can be added to any massage or spa service.

Massage is known to help alleviate pain and increase relaxation from symptoms related to anxiety, depression, PTSD, high blood pressure, anorexia, bulimia, hypertension, carpal tunnel syndrome, tennis elbow, golfer's elbow, frozen shoulder, texter's/gamer's thumb, sciatica, muscle pain, tension, joint pain, range of motion, arthritis, fibromyalgia, side effects from radiation and chemotherapy, plus so much more.

I am available Monday through Fridays, and every other Saturday between 9:00 am and 5:00 pm. The last appointment starts at 4:00 pm for a 60 minute service and at 3:30 pm for a 90 minute service.
Massage Therapy
Bianca Wylie
41925 3Rd St
Temecula, CA 92590