Massage Therapy Continues to Earn Consumer Respect
By Nora Brunner
Originally published in Massage & Bodywork magazine, April/May 2007.
Appreciation for the massage therapy experience has made new inroads with American consumers—one in six American adults sought out massage therapy in 2006—and more men and Midwesterners than ever are getting massaged. These are key findings of a January Harstad Strategic Research survey sponsored by Associated Bodywork & Massage Professionals (ABMP).i
An estimated 33.6 million American adults aged twenty-one or older received at least one massage in 2006, up nearly nine million from the 2004 level. That represents growth from 12 percent in 2004 to 16 percent in 2006. Especially encouraging for the future of massage is 20 percent of those aged twenty-one to thirty-four received at least one massage in 2006, the highest usage of any age group.
"Massage has grown in popularity and massage therapists continue to be highly regarded by their clients," says Les Sweeney, ABMP president and nationally certified massage therapist. "The credit goes to massage therapists for their ability to communicate to clients what massage therapy has to offer."
New Audiences
Two intriguing trends the research identified were more interest in massage both by men and by people living in the Midwest. This demonstrates the massage message is spreading and being favorably received in new segments of the population.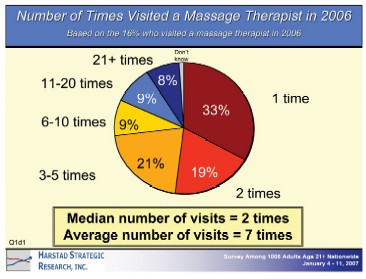 The jump in the number of men reporting massage use is substantial, an increase of 5.3 million men from 2004 to 2006, or growth from 8 percent of male adults to 13 percent.
The Midwest now rivals the traditional geographic leader—the American West—in consumer massage use, jumping six percentage points between 2004 and 2006 to 19 percent. In the West, 20 percent of consumers reported getting a massage in 2006; 14 percent of Northeasterners and 12 percent of Southerners received a massage in 2006, both up slightly from 2004.
Massage Therapists Respected
Americans again gave high praise to their massage experiences and expressed favorable feelings toward massage therapists in 2006. Ninety-four percent of those who had at least one massage in 2006 say they have favorable feelings toward massage therapists, with 69 percent expressing very favorable feelings. Among 2006 massage clients, fully 85 percent voiced very favorable feelings about their most recent massage, with 37 percent rating it a perfect ten out of ten.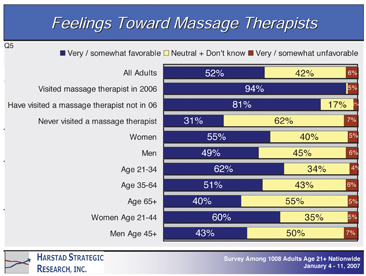 "It gratifies me to see the level of acceptance of massage therapy," Sweeney says. "Society has recognized what we have long known—therapists are competent, caring individuals who offer a valuable service to their clients."
Why Americans Seek Massage
Most clients who get a massage seek relaxation and restoration (30 percent), need relief from pain or muscle soreness (29 percent), or have a massage because they received it as a gift (28 percent).
Consumers also revealed the two most persuasive factors in prompting them to get a massage: the recommendation of a medical professional and the receipt of a gift certificate for massage. This might mean massage therapists can boost their practices by strengthening their referral networks and reciprocal relationships with other healthcare providers.
Also, with the cost of massage as the number one barrier to massage, it appears gift certificates and discount coupons could help attract more clients.
Other factors cited as obstacles to getting massage include "lack of time/too busy" (31 percent) and "don't need a massage" (24 percent).
"This data indicates what most of us assume—people feel harried; all the more reason they need a massage," Sweeney says.
Another finding was that while more Americans than ever have tried massage—nearly 40 percent of Americans have had at least one—turning them into regular massage clients is a challenge. ABMP helps educate the public on the benefits of massage with its extensive website and supports its members in doing the same with numerous publications and informational tools.
Massage as a Gift
Among women who have ever received a massage, 33 percent say the principal reason they got one was they received a gift certificate; that's the case for only 19 percent of men. Perhaps somewhat correlated, women are more likely than men—36 percent compared to 22 percent—to have received their most recent massage in a spa setting. Massage is a prime example of a trend toward "experiential" gift giving other consumer research has revealed.
In a telling finding, men and women who have tried massage differed significantly in their predictions about how welcome a gift of massage would be for their spouses or significant others. Seventy percent of the men thought their loved ones would appreciate a massage gift "a great deal" or "quite a bit," where only 47 percent of women predicted a positive response.
The lower confidence women exhibit in giving their spouses or significant others a massage gift may be unfounded, given the jump in massage use by men over the last two years.
"This presents an educational opportunity for therapists to let their clients, especially women, know their loved ones would be likely to appreciate a massage, too," Sweeney says.
Parity With Other Services
Massage therapists continue to garner similar numbers in visits as chiropractors and physical therapists. As a finding that's remained steady over several years, this continues to speak well of massage therapy services, which are paid primarily out of clients' own pockets, yet hold their own against services that often have insurance-coverage incentives.
When asked which type of healthcare professionals they visited in 2006, 16 percent of respondents said massage therapists, 14 percent said chiropractors, and 13 percent said physical therapists.
The survey was commissioned by ABMP and conducted by Harstad Strategic Research, Inc. by telephone January 4–11, 2007 among 1,008 adults aged 21 or older nationwide. The margin of error associated with a sample of this type is plus or minus 3.1 percent at the 95 percent confidence level.