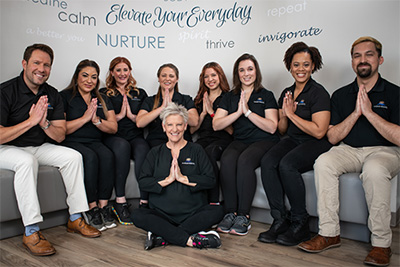 This content is sponsored by Massage Heights.
Every year, more and more Americans use massage therapy for the many health benefits it offers. As the popularity of massage therapy increases, so does the demand for qualified massage therapists. Today, consumers recognize the value of alternative wellness services like massage therapy to help reduce pain and stress, increase energy and wellness, bolster mood and mental health, and manage symptoms from physical and emotional conditions.
There are many compelling reasons to consider massage therapy as a career choice, including:
Fast-growing profession with multiple career avenues
Flexible working schedules and hours
Active and healthy work environment
Personally satisfying work while helping others
Financially rewarding
Professional and personal growth opportunities
Career Opportunities
Career opportunities for massage therapists are expected to increase faster than average job growth rate over the next several years. The US Bureau of Labor Statistics projects that massage therapist employment will grow 20 percent from 2021 to 2031, which is must faster than the average for all US occupations.
Professional massage therapists find work in a variety of settings, including massage clinics, cruise ships, spas, medical offices, health clubs, and sports medicine centers, or they choose a private practice.
Other career opportunities include:
Working at a school as an instructor or administrator
Managing a resort spa, day spa, or massage clinic
Massage product/equipment supply representative
Working for a national massage association
Writing articles and/or textbooks
Continuing education provider
Choosing a Massage School
There are many professional massage therapy educational programs available throughout the US. Each school offers unique courses and approaches. Take time to research schools to find the best fit for you. You should visit the school in person to meet with the staff and tour the campus. Below are points to consider when choosing a massage school.
Does the school's curriculum meet state/local licensing requirements?
Is the school accredited and does it offer financial aid?
How long has the school been in operation?
Does the school offer full-time or part-time programs?
Does the school program have diverse curriculum including anatomy/physiology, pathology, massage modalities, professional development, and a clinical internship where students practice massage on real clients in a managed setting?
What are the instructors' work experience, training, and longevity with the school?
Does the school have a proactive career services department focused on supporting students and providing job-placement assistance after graduation?
What to Expect in Massage School
Massage therapy educational programs average 6–12 months. During massage therapy school, students will learn hands-on modalities and techniques, as well as anatomy, physiology, pathology, and professional development. A massage student is not only a therapist-in-training but also acts as a client receiving massage therapy from fellow classmates.
Massage students learn how to combine techniques and systems to address individual therapeutic needs. Every massage therapist is unique in their approach and design of a massage treatment, and during the program, individuals discover their own creative approach.
Becoming a Licensed Massage Therapist
In most states, massage therapy graduates are required to have a state license before legally practicing massage. License requirements vary from state to state and most require the applicant to pass a state-licensing examination. Many states also require that massage therapists complete continuing education hours before renewing their license. To learn more about licensing requirements in your state, visit abmp.com/practitioners/state-requirements.