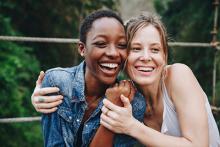 Finding imaginative gifts that express sincere caring for friends and loved ones is always challenging. The gift of touch, offered through massage therapy, can be an unexpected surprise that is affordable and appropriate for so many occasions and types of people.
Half the fun in selecting this gift is fitting the unique massage to the specific event or individual. Besides the usual holidays and occasions—Christmas, Valentine's Day, Mother's Day, anniversaries, and birthdays—a massage can be given for graduations, housewarmings, or bridal and baby showers, as well as employee recognition rewards, thank-you presents, and congratulation gifts.
Massage gift certificates are typically available in a variety of time increments or in a series of sessions, such as combinations of three to six massages suited to the specific circumstance or the recipient's needs. Possibilities for special massage gifts include a 10- to 15-minute chair massage; a 30-minute foot massage or focused therapeutic massage; a 60-minute pregnancy, postpartum, or sports massage; or a 90-minute full-body massage. The prices might range from $10 to $45 on the low end to several hundred dollars if you choose a series of sessions or an exclusive spa.
After fine-tuning your gift list, you need to find a qualified practitioner in the recipient's area. If you are looking for an independent practitioner, visit www.massagetherapy.com and use the "Find a Massage Therapist or Bodyworker" search tool at the top of the page.
Many spas, and a significant number of massage therapists, have websites where gift certificates are sold. One advantage of reviewing websites is to see if any special package deals or discounts for purchase of multiple certificates are available. If the recipient is in your own community, personal experience and word-of-mouth referrals are effective methods for finding qualified therapists. Usually the purchase arrangements are only a telephone call away.
Gift certificates are usually mailed to the recipient by the massage therapist, but can also be mailed to you, if you wish. Most certificates have an expiration date of either six months or one year. Ask if you will be notified if the gift certificate is not used. In most cases, the certificates are nonrefundable, but they are most often transferable either to you or to another person. Be sure that the gift certificate comes with clear instructions on the process for redeeming the massage.
Massage is the gift of soothing and healing relaxation. In a world where stress is a prevalent health problem, massage can transport the gift recipient to a place of incredible calmness and well-being. Consequently, you are oftentimes thanked twice—once when the person receives the certificate and again after the recipient basks in the massage.