Does the security and structure of being an employee of a massage clinic or spa franchise appeal to you? Or do you want to enjoy the freedom (and are you ready for the responsibility) of owning your own practice? The beauty of a career in massage and bodywork is the wide range of options you have to choose from.
Here are some of the options available to you:
Work in a franchise location
Working in a massage franchise or clinic offers stability, security, and structure. Every location is different, but in general, you can expect to enjoy a consistent schedule and regular income.
Work in a spa
Massage is one of the most requested services at luxury spas, which means massage therapists are always in demand. Working in a spa setting allows you to enjoy working alongside a variety of health and wellness specialists and apply a variety of creative body treatments in a luxurious setting.
Work in a medical or health-care setting
Massage therapists are employed in many hospitals and private physician or chiropractic offices. These therapists work in a clinical setting as an integral part of a team of health-care professionals.
Work as an independent therapist
Self-employment allows you to set your own schedule, create your own work environment, and choose the modalities you practice. However, you are also responsible for attracting and retaining clients, performing bookkeeping, and everything else that comes with running a business.
Work as a sports massage therapist
The opportunities for massage therapists and bodyworkers who want to work with athletes continue to grow. There are many certification programs for licensed therapists that prepare you to work with this clientele, and more schools are offering training in sports massage as part of the curriculum for new therapists, making sports massage therapy a more viable career option than ever before.
Read about how sports trainers use massage therapy to prepare the nation's top college football athletes for the NFL Scouting Combine in "Razor's Edge," from the May/June 2016 issue of Massage & Bodywork.
For an in-depth look at how massage therapy earned its place as an integral part of sports training programs across the country, read "The Evolution of U.S. Sports Massage," also in the May/June 2016 issue of Massage & Bodywork.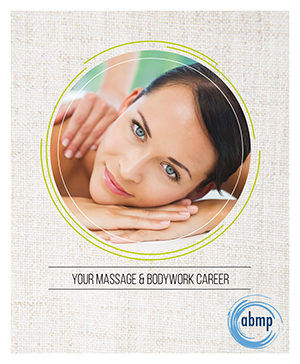 Visit our School Directory for a list of schools in your area and start working toward a career in massage and bodywork today!