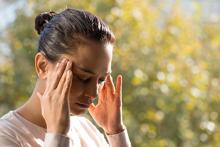 A change in seasons introduces many new environmental factors that can trigger migraines and headaches, such as cooler weather, changes in barometric pressure and humidity levels, wind, and allergens. Dr. Vincent Martin, director of the Headache and Facial Pain Center at the University of Cincinnati Gardner Neuroscience Institute and president of the National Headache Foundation, describes the common headache and migraine triggers that overshadow fall. 
Changes in Weather
Weather changes are a common migraine and headache trigger, and the cooling temperatures in the fall are a primary trigger. While it is not clearly understood why this happens, there are a number of studies being conducted to understand this correlation. It has been suggested that factors such as changing barometric pressure, humidity, and temperature can be triggers. Since these factors tend to occur at the same time, it is difficult to pinpoint which is the culprit.
Allergens
Perhaps the most common headache and migraine trigger are allergens, and fall is full of ragweed and mold. Allergies will increase the amount of histamine our bodies produce when allergens are high, which can trigger migraine by inflaming sinuses. Individuals with migraine and headache should take a number of precautions during the fall to lessen the impact of allergies. A few ways are to use a HEPA air filter, mattress and pillow encasings, and doctor-prescribed allergy medications to reduce aggravation of the sinuses.
Daylight Cycle
Fall is also met with less daylight, and this commonly shifts sleep schedules. Maintaining a consistent sleeping pattern is essential for migraine and headache sufferers, as their chance of an oncoming attack significantly rises when the pattern is disrupted. Additionally, as days grow shorter, it tends to have a neurological effect on people, potentially triggering a migraine. 
About National Headache Foundation The National Headache Foundation has furthered awareness of headache and migraine as legitimate neurobiological diseases for the past 48 years. They collect the most comprehensive information on headache and migraine and connect with patients, who have just begun to seek treatment or those who are looking for more options. Visit
www.headaches.org
for more information.