What you need to know
Congratulations on taking the first step in exploring a career in bodywork! We're excited to welcome you on your journey. There are many people who have started where you are, and they've each chosen to pursue a career for a unique combination of reasons, including:
Freedom
Many therapists choose a career in bodywork because they enjoy the freedom of not being stuck in a cubicle or an office all day. Being a massage therapist allows you to work in a variety of locations and meet a wide range of people. A team-oriented massage clinic, a tranquil day spa, a chair massage booth outdoors at a festival or fair, a therapeutic massage in a medical health-care setting—the options are endless!
Flexibility
If you choose to be an employee of a clinic or spa, the manager can work with you to help you create an ideal schedule and find clients who are right for you. If you choose to become an independent contractor or own a private practice, you'll enjoy the flexibility to make your own hours, choose your own career path, and be your own boss!
Impact
If you have a passion for helping others, you've come to the right place. There's nothing more rewarding than providing someone with relief from their pain and stress. Massage therapists make a positive impact on people's lives every day!
Download our guide, Your Massage & Bodywork Career, for practical, helpful advice as you consider your options.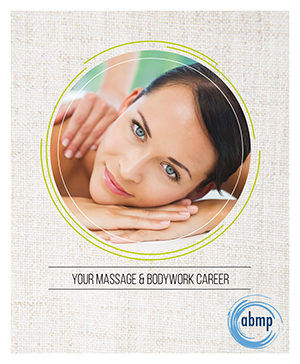 We've got even more helpful information on what will likely be two of your biggest decisions: where to go to school and what type of career path you'll pursue. You can also visit our School Directory for a list of schools in your area and explore state licensing requirements on our interactive regulatory map.
And remember, as the largest professional association for massage therapists and bodyworkers in the United States, Associated Bodywork & Massage Professionals (ABMP) is here to support you on every step of your journey!